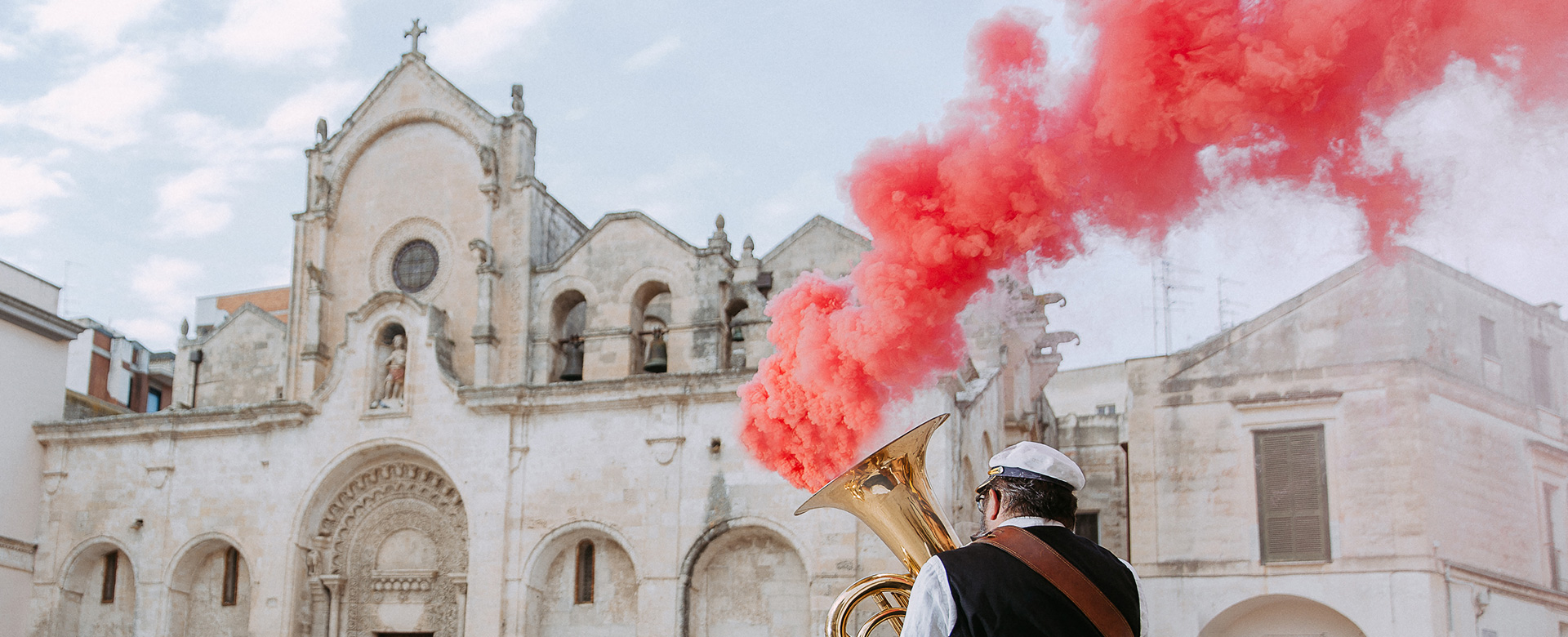 OPEN THE FUTURE!
Opening Ceremony of Matera European Capital of Culture
Basilicata has 131 municipalities, most of them with their own marching band. The opening ceremony of Matera European Capital of Culture 2019 will revive this great musical tradition of southern Italy, starting with an extraordinary celebration in the streets of Matera. It will be akin to a village festival but at an unprecedented scale, filling the city with music and lights.
For this extraordinary event, not only will the entire region of Basilicata be in Matera, but Matera will be Europe. In fact, the European Capitals of Culture will be represented in Matera by their own marching bands.
From the morning on, bands coming from all the villages in Basilicata and from Europe will enliven the city,
Marching with their instruments. They will converge on the city, moving along the main roads from the North, the South, the East and the West, from the Murgia and even climbing up the Gravina.
More than two-thousand musicians will walk through the districts of the city - Spine Bianche, Serra Venerdì, La Martella and Serra Rifusa – and will reach the squares where they will be welcomed by the temporary structures erected by the citizens and schoolchildren. After that, people will share a convivial lunch in the squares of each district, enlivened by the participation of families, children and others– a memorable experience of exchange and relationship building.
At sunset, the musicians will finally converge on the Sassi, each band playing its own repertoire, so that every alleyway will eventually be filled up with music. The old town will echo with bits and pieces of music creating a real jam session. The Sassi will sparkle by candlelight thanks to the lighting arranged by the people involved in the Social Light project.
Thanks to the patnership with RAI, a concert conducted by a distinguished director will be broadcast live at 7pm; at 8: p.m. the TG1 (the news on RAI 1 channel) will broadcast the opening speech of the event by the President of the Italian Republic. The event will continue with performances by nationally and internationally renowned artists who will perform in various squares across the city, spreading the ceremony all over thestreets, alleyways, squares and courtyards.
The opening ceremony will not be confined to the city of Matera and will not come to an end on 19th January but will echo throughout Basilicata. In fact, on the 20th January, the day after the opening ceremony, each band from Basilicata will host a foreign band in its own town where they will play together in the main square and enliven the town centre.
Realized in co-production by RAI – Radio Televisione Italiana (Italian Public Broadcasting Company).
Co-organizers: Town councils of Basilicata, ECoC network
Venue and Date:
19 th January 2019 in Matera | 20th January 2019, Towns of Basilicata
Artistic coordinator:
Roberto Tarasco