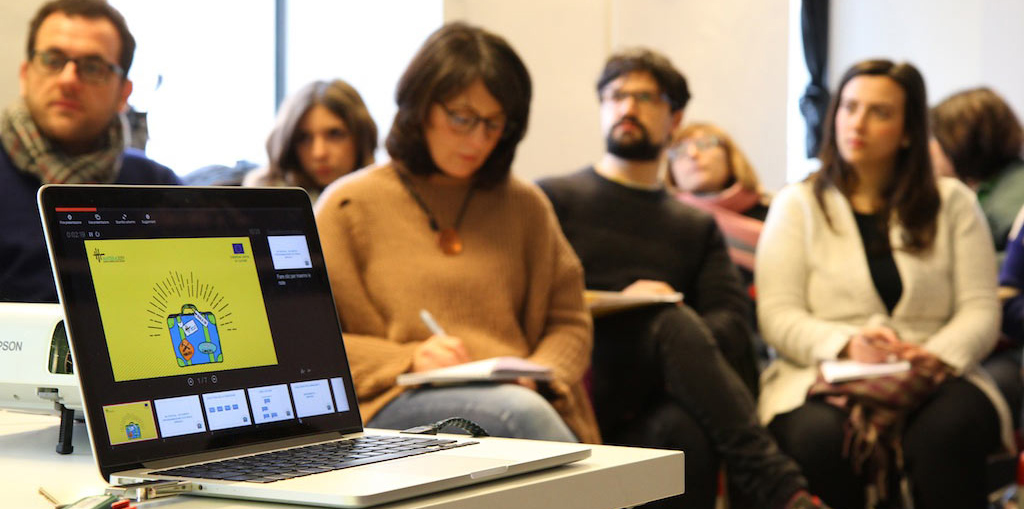 Build up
Human resources play a key role in the management of complex events such as the ECoC. For this reason, we worked out a capacity building programme that allows to undertake innovative initiatives and at the same time to provide the existing cultural facilities with a pool of collaborators for future actions.
The Build-up is a systemic capacity-building programme (skills enhancement) for local socio-cultural operators. The characterizing topics of the programme are: guidance to collaboration, overcoming state assistance dependency, setting up international networking, researching new models of sustainability and entrepreneurship, sensitiveness to social issues.

BUILD-UP ADDRESSED TO MAKERS AND LINKERS
Who are the Makers and Linkers?
They are 40 professionals (50% of them juniors) selected through a public call targeting, in particular, young people under 30, with the aim of investing in their growth and creating a nursery of experts who will be able to use the acquired skills in Matera and in the South also after 2019.
More than 50% of Makers and Linkers come from the regions included in the EU Convergence Objective, namely Puglia, Calabria, Campania and Sicily. These resources have consolidated international management skills along with a strong bond with Basilicata and the South of Italy which will make them sensitive to the local context.
The Build-up process addressed to Makers and Linkers allowed them to acquire a common language linked to the philosophy of Matera 2019 and to the development and implementation of relevant projects.



Objectives:
to create a register of professionals in cultural management and production (Makers) and of experts in public involvement (Linkers) which will be made available for both Matera Basilicata 2019 Foundation and every implementing body of the projects in Matera 2019 cultural programme according to their specific needs;
to provide the selected professionals with a tool kit to make them ready to face the challenges of such a complex project as ECoC. A customized training including guided workshops and hands-on practice, was organized to engage the trainees in relevant European realities and make them grasp the size and complexity of the ongoing processes;
speaking the same language: the whole process has been characterized by building up a shared new vocabulary at the end of each work session in order to have a common nomenclature and a new semantics built up together to deal with this complex project. The collective vocabulary will become a powerful tool that can fuel and be fuelled up by all further debates about Matera 2019, especially the ones related to the concrete outcomes;
create parallel links between two dimensions: Matera and Europe on one side and Matera and the South of Italy on the other. The places of origin of the participants and their cultural experiences were used to set up a network between Matera 2019 project and the European dimension, made up of projects, programmes, other cultural models and other methods for facing similar problems. The visionary Matera 2019 project, is a unique opportunity for the whole South of Italy to bring (back) "home" the skills acquired around the world and use them steadily. A human heritage of knowledge that mustn't be spoilt;
build up a cohesive group of people and professionals, who can work as part of a team, share their experiences and competences and give added value to Matera 2019 programme.
40 invited participants
8 topics
10 full-time working days (80 hours)
28 teaching activities and reports
6 different headquarters
45 meters of "nomadic walls", which were set up to draw up a shared vocabulary
More than 10.000 kms travelled by participants