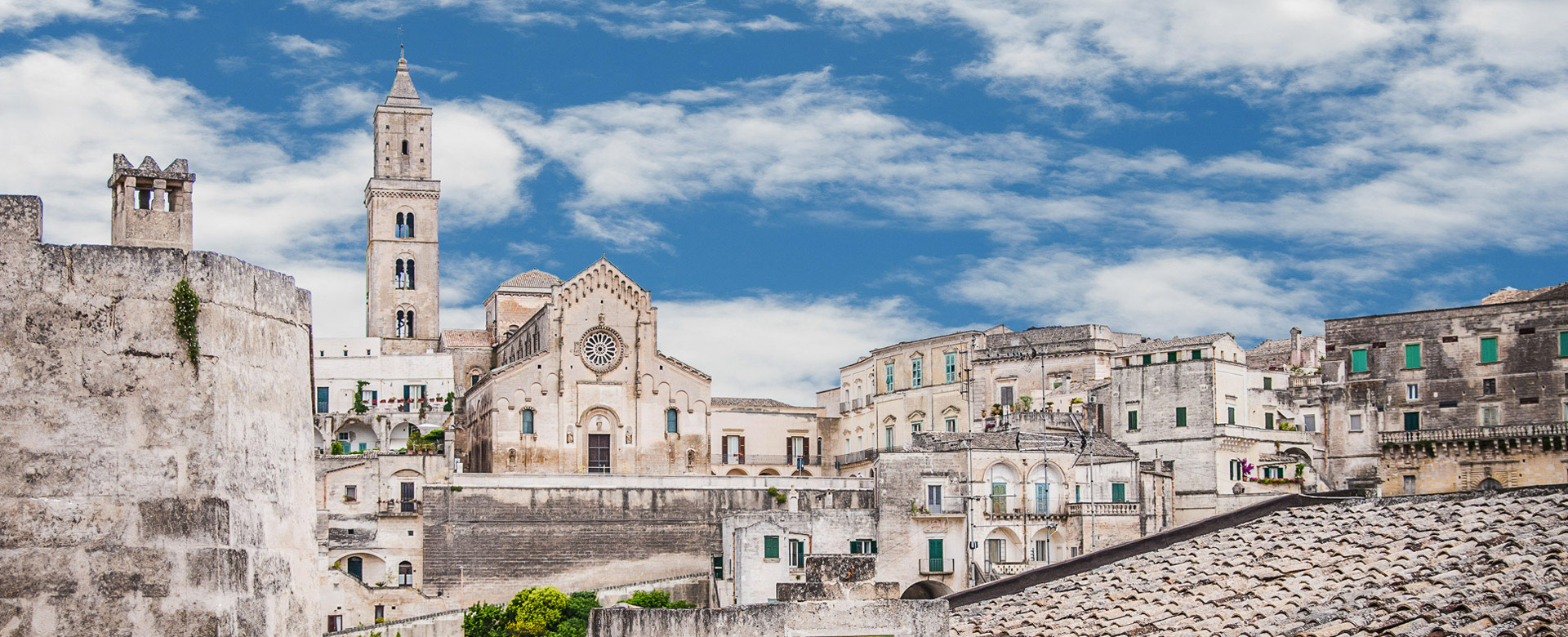 How to get to Matera
By air, train, bus, sea or car. Travelling to the European Capital of Culture 2019 has never been so easy!
By air
The nearest airport to Matera is Bari Palese, which is 55 kilometres away and serves the Italian cities Milan, Rome, Verona, Turin, Venice, Trapani, Bergamo and Bologna, as well as international destinations: London (Stansted and Gatwick), Paris, Barcelona, Brussels, Cologne, Bucharest,
Tirana, Stuttgart and Munich.
Bari Palese Airport operates flights by Alitalia, British Airways, Lufthansa, MyAir, Ryanair, Hapag Lloyd, AirOne and Club Air.
Alternative airports are Brindisi (140 km) and Naples (250 km).
A shuttle service runs between Matera and Bari Airport. Timetables are available online and booking is recommended.
By train
Trenitalia Official Carrier di Matera 2019
Frecciarossa and Intercity:
2 Frecciarossa Milan-Taranto stop in Ferrandina - Scalo Matera
4 Rome-Taranto Intercity with stop in Ferrandina - Scalo Matera
Freccialink:
2 connections with Bari C.le
4 connections with Salerno
26 Regional Trains per day for Ferrandina Scalo - Matera:
2 connections from / to Naples
4 connections from / to Salerno
10 connections from / to Potenza
10 connections from / to Taranto
Connections from Ferrandina Scalo to Matera
FAL from Bari
By car
From the Mediterranean coast:
Take the Salerno-Reggio Calabria Autostrada followings signs for Potenza and Metaponto on the SS 407 Basentana road, then turn off for Matera after the Ferrandina Scalo FS exit.
From the Adriatic coast:
Take the Bologna-Taranto Autostrada to the Bari Nord exit. Continue to the industrial zone and exit at Modugno for Altamura-Matera, following the SS 96 then the SS 99 roads.
From the south of Italy (Calabria and Sicily):
Take the Reggio Calabria-Salerno Autostrada to the Sibari exit, then the SS 106 Jonica road for Taranto. The Matera exit is near Metaponto.
By sea
Ferries to/from Bari
Bar (Montenegro), Corfu (Greece), Dubrovnik (Croatia), Durazzo (Albania), Igoumenitsa (Greece),
Patras (Greece), Sami (Kefalonia, Ionian Islands, Greece), Zante (Zakynthos, Ionian Islands,
Greece).
By bus
Buses from Milan, Rome, Naples and Bari
Marinobus
FAL
Flixbus
Marozzi
Local buses
The Matera 2019 Passport also provides you with free urban public transport in Matera.
For Matera bus services, routes and timetables are available online from the Miccolis company.
Capital For One Day

'Capital For One Day' Municipalities can be reached on the shuttle service which leaves from Matera.
For information and reservations, please contact:
Ridola Viaggi, Via Domenico Ridola 54 (MT) - +39 0835 314233 - This email address is being protected from spambots. You need JavaScript enabled to view it. - www.ridolaviaggi.it