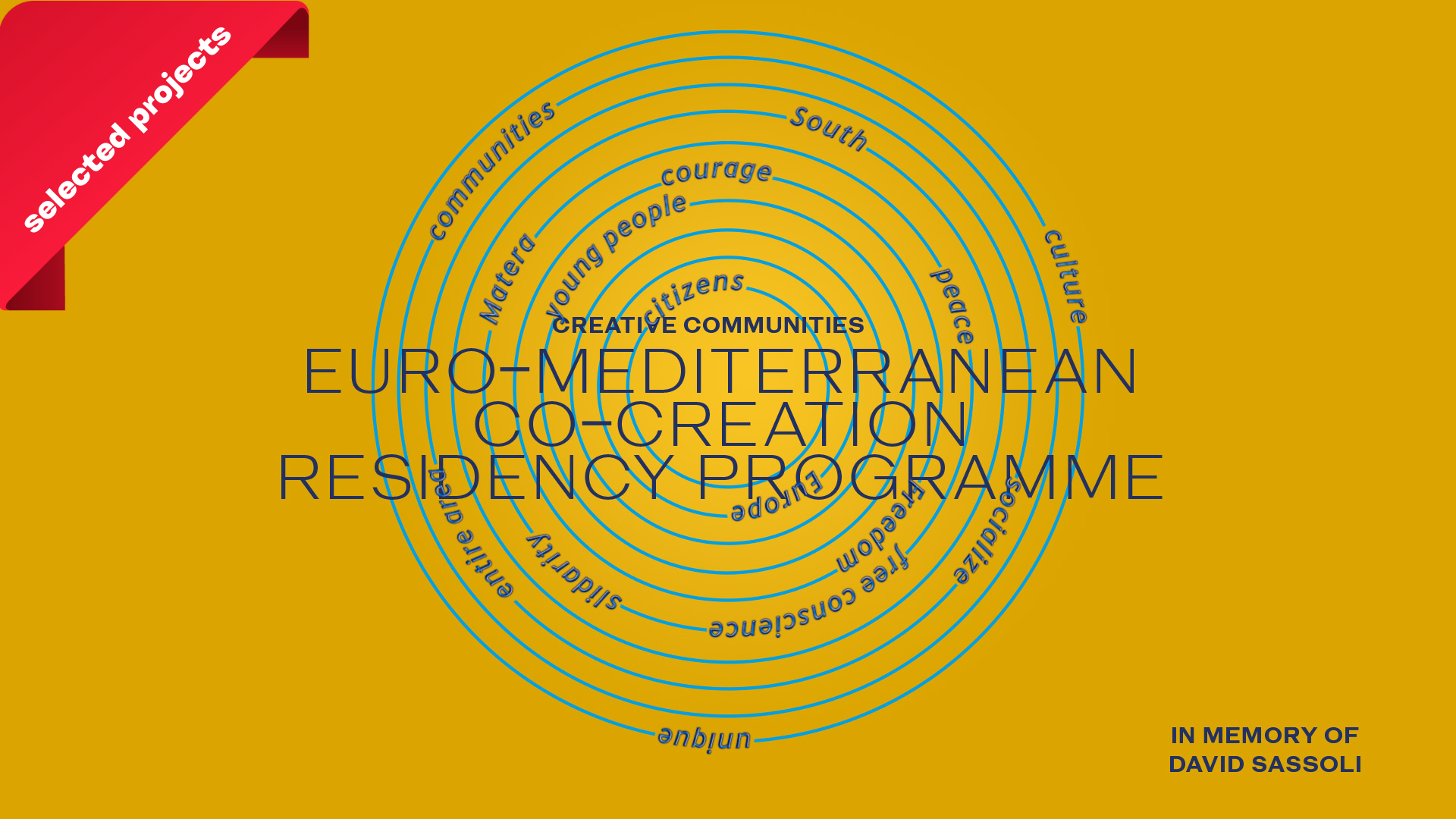 Selected projects / Euro-Mediterranean co-creation residency programme
The Selection Panel has identified the following four creative proposals that will participate in the residency program in Basilicata, starting from next November:


Artist: Anne Fehres & Luke Conroy (collective)
Municipality: Stigliano (MT)
Hosting community: appARTEngo
Culture enterprise: Artepollino

Abstract project:
"We Are Here" - During the residency they will invite the community in Basilicata to celebrate their cultural heritage through food, sharing and art. The final outcome of this celebration will be the presentation of various large-scale photomontage artworks installed in community public space. Each of these photomontage works will feature images of a particular community individual/family and a recipe they have created. Through its presentation in public space, the community and broader audience will be encouraged to reflect upon the recipes that hold significant individual/local cultural value, bringing them outside of the home and into public space to be honoured.
The specific visual outcome will consist of a series of 5 large-scale (approx. 3x3 metre) artworks. These artworks will be temporarily installed in the public space of the particular Basilicata community, on a previously empty wall(s). Each artwork will be a surreal photomontage that combines imagery of the local community and their created recipes. All of the images that go into the final artwork will be captured by the artists during the residency period.
The final composition of these various photographic layers will be completed digitally on Photoshop. The photomontage compositions will be a series of celebratory works, playing with scale and form to present the recipe and the recipe's creator alongside each other in a surreal and playful manner. The final compositions will be printed out on paper and glued to a wall in the public space, with help from the local community. Alongside each of these works will be a small text detailing the recipe and people depicted in the work.
Through this work, the local community will be invited to reflect upon their local community and cultural heritage as contained in food. It will also encourage a sharing of stories and multi-sensuous experiences, between the artists and the community. Through the public presentation of this work, the local community will be encouraged to find pride in their heritage and connect with each other in new ways. Through the presentation of the project in the handbook/dossier and the artist's online presence, this celebration of cultural heritage in rural communities will be brought to a large International outside audience.

Artist: Happy Place (collective)
Municipality: Tursi (MT)
Hosting community: Tursi Digital Nomads
Culture enterprise: Casa Netural

Abstract project:
"Basilicata Calling" – A personal connection to rural Italy. The name "Basilicata Calling" carries two meanings: literally, to see an incoming call, reminiscent of how older generations were waiting for us to stay in touch after we moved away; and figuratively, to experience a strong urge to a particular way of life – like a "calling" – that reflects a desire to connect with the value of our material and immaterial cultural heritage. In November, we want to take Basilicata's cultural heritage abroad with a series of video calls. Our project opens a digital pathway for European remote workers and Italian expats to engage with the cultural heritage of rural Italy by meeting and interacting directly with its citizens. Within the local community, it triggers a creative and participatory process of storytelling and knowledge-sharing, in which young presenters or "enablers" use technology to interact with experts and help pass on their knowledge to an international audience.
Artist: Serlenga Anna (individual)
Municipality: Rionero in Vulture (PZ)
Hosting community: Associazione culturale Vulcanica
Culture enterprise: Allelammie

Abstract project:
The Last Things is a research project on the historical memory of the city. It is an investigation that starts from the collection of memoirs of some citizens and townsmen, protagonists of the micro stories that marked the evolution and radical changes that the city went through. The Last Things, however, is not intended to be just a celebration of historical memory as much as the possibility of passing it on. A necessary passing of the baton, when the generation that went through the great Wars, fascism and Nazism are coming up short, especially during and after the global pandemic that affects precisely the generation of the elderly and old, the last witnesses of the great historical passages of the 20th century. The project has as its center the transmission of testimony and its reworking: for this reason, it proposes to activate a relational exchange involving two very distant generations by proposing some pairs of people to enter into a relationship. Through the creation of a network, the project will connect an elderly person over 70 together with a young person 12-14 years old, who will exchange stories, drawings, photographs, letters, maps, creating a first collective archive that connects History with the stories and urban spaces of the city, a cartography of memories that connects to storytelling and visual work. Indeed, they are interested not only in the collection of memory but in its possible reinterpretations, which allow its actualization and pass on its agency into the present and future. Audio interviews will accompany writings, drawings, embroideries in order to build different transmission devices. Children's books, performance walks, visual platforms are some of the possible forms of this research around History and the transformations of the city.

Artist: Piscopo Marco (individual)
Municipality: Forenza (PZ)
Hosting community: Pro Loco
Culture enterprise: compagnia teatrale Gommalacca

Abstract project:
[r]existenzminimum resisting depopulation, decolonizing imaginaries and reclaiming a narrative. It is a community self-narrative project, through the theme of the existence of certain towns and the resistance of those who live there. The chance to talk about oneself is seen as a real opportunity for emancipation from stereotyped narratives, together with co-designing through the active inclusion of marginalized subjects and the involvement of the community for the creation of a choral and relational work.
Starting from the idea that a community wants to know itself - and to do so it must be able to tell about itself freely, limiting external interventions that alter its vision or show only some aspects, often the best known - we will work through workshops and group activities (territorial explorations, photographic reportage, collection of stories, creation of a community atlas) to create a photographic, textual and sound online archive in a collaborative way that returns a first story of the community and could be easily shared and developed in the future.
We'll promote a choral story, subverting the classic topos of a tourism sponsorship (both on-line and off-line) and social networks campaign: how? Collecting material, connecting people, places and stories, and designing together a final event, in which share and show the results. We'll work on the concept of postcards and billboards, often tools of a stereotyped story (for the point of view they express - usually the non-inhabitants' one; for the places taken up - idealized, in their perfection and beauty; for the terms used - generic and catching buzzwords).
We will therefore work on the one hand on active co-design practices (assemblies, workshops and walks) and on the other hand on material outputs (archive, atlas, story, postcards and billboards) that become enabling devices: tools capable of developing characteristics such as a critical look and narrative skills, something that won't end with the end of the design process, but that are those thousand small enhancements through which real change can take place.
Digital storytelling artistic project: "TAM – Tower Art Museum" - "Volevo solo aprire un museo"


The Panel also awarded four mentions to the following four worthy projects which, in the event of renunciation by the ones selected, will be invited to participate in the residencies:

Zegna Annalisa (individual)
Miraglia Maria Luisa (individual)
Hypen Duo (collective)
Plam Creative Studio (collective)

The creative projects and the young selected artists were presented on Saturday 08 October 2022 at 10:30 at the Ridola Museum in Matera during a public meeting at the presence of the Selection Panel.

Selection Panel
Francesca Bertoglio, project manager of Bergamo-Brescia 2023, the Italian capital of culture; Alessandra Vittorini, Director of Fondazione Scuola dei Beni e delle Attività Culturali; Irena Topalli, International Relations Manager of Tirana 2022, European Youth Capital (TEYC 2022); Sendi Mango, co-founder of BridA art collective, partner of Nova Gorica-Gorizia, European capital of culture (Go! 2025); Vania Cauzillo, stage director, co-founder of Compagnia Teatrale L'Albero, Vice chair RESEO.