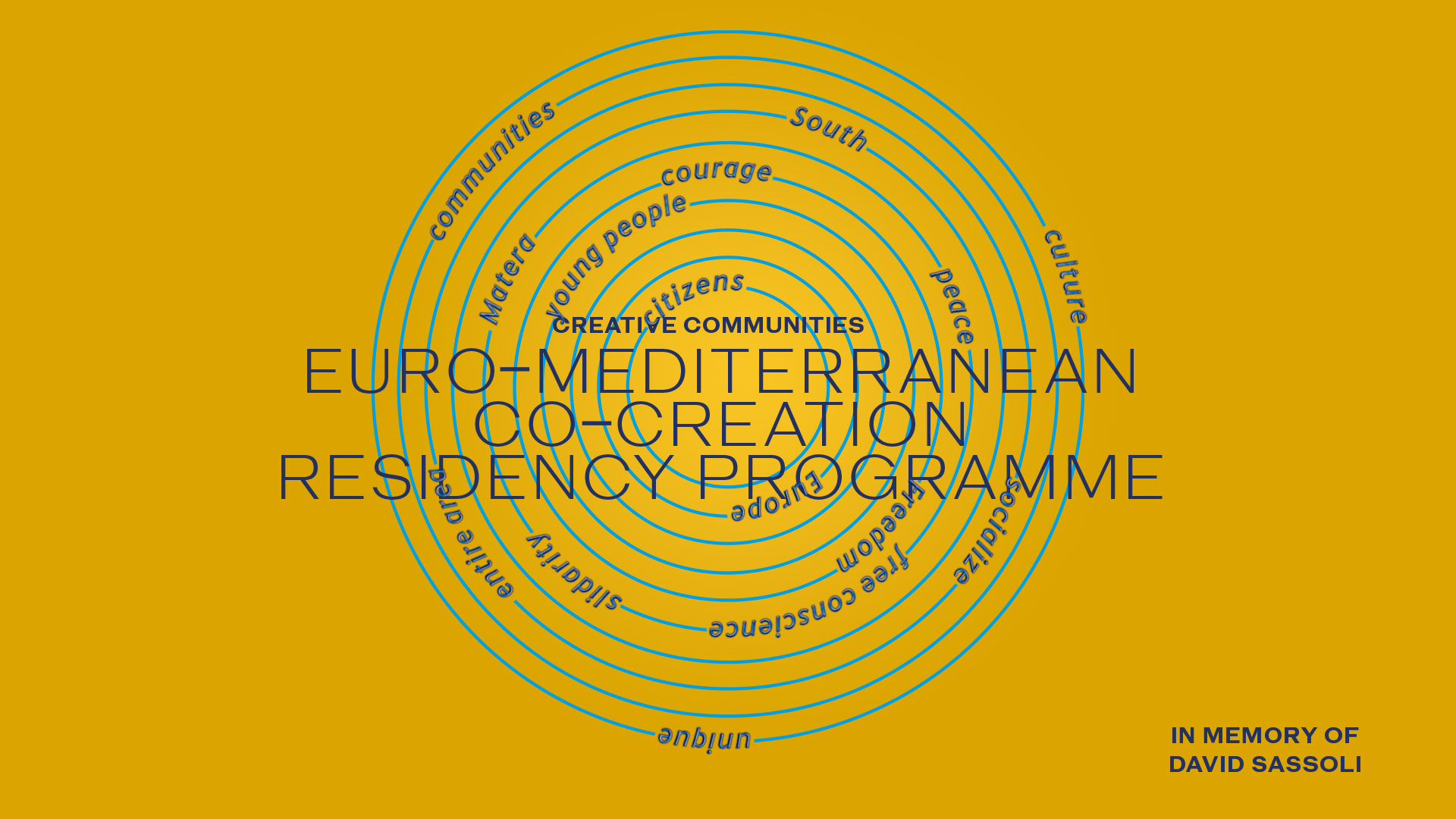 Open Call: Euro-Mediterranean co-creation residency programme
--- Update of October 3, 2022 ---
Find here the selected projects.
--- --- ---
--- Update of September 6, 2022 ---
The call for application is closed with more than 70 proposals.
The average age of applicants is 30 years old and they come from Italy, Jordan, Morocco, Algeria, Tunisia, Ukraine, Poland, Holland, Czech Republic, Ireland, Croatia, Greece, Albania, Germany, Serbia, Spain, Slovenia, France, Hungary, Cyprus.
Starting from today, the evaluation commission will work to select the four projects that will be realised in Basilicata, during the residency weeks in November 2022.
The evaluation commission is composed by:
Francesca Bertoglio, project manager of Bergamo-Brescia 2023, Italian Capital of culture;
Alessandra Vittorini-Sassoli, Director of Fondazione Scuola dei Beni e delle Attività Culturali;
Irena Topalli, international relations manager of Tirana 2022, European youth capital (TEYC 2022);
Sendi Mango, co-founder of BridA art collective, partner of Nova Gorica -Gorizia Europena capital of culture (Go!2025);
Vania Cauzillo, stage director, co-founder Compagnia Teatrale L'Albero, Vice-chair RESEO.
--- --- ---
"Europe is its citizens, philosophical thought, arts, literary vibrancy, scientific discoveries, poetry, music, law".


On 20th December 2019, during our Closing Ceremony in Matera, Mr. David Sassoli, the greatly missed President of the European Parliament, called on Europe to become an increasing praesidium of peace, freedom and democracy leveraging cultural participation.
On this basis and in the European year of Youth, together with Open Design School, in partnership with European Capital of Culture GO!2025 (Nova Gorica-Gorizia) and European Capital of Youth Tirana EYC 2022 and under the patronage of European Capitals of Culture Esch 2022, Kaunas 2022 and Novi Sad 2022, we call upon European and Mediterranean creatives to design and produce four residencies in Basilicata (IT), centred around the above-mentioned principles, through co-creation with local communities.

WHY THIS OPEN CALL

#together and #openfuture have been the keywords for our vision and our forward-looking path.
2022 is the European Year of Youth: Europe calls on young people to become active citizens and actors of positive change.
Europe needs the vision, the engagement and the participation of all young people to build a better future based on equality, inclusion and sustainability leveraging participation of local communities, especially those with fewer opportunities, from disadvantaged backgrounds, from rural or remote areas.
We want to invite young creatives, from Europe and the Mediterranean area, to work with local communities of Basilicata, investigating a new idea of Europe shaped around those principles and which embraces the Mediterranean area as a key place to shape the future.

WHO CAN APPLY

We will select four European and Mediterranean young creatives (individuals and collectives, aged under 40) for a three weeks residency in a village of Basilicata region (Italy) during November 2022.
Invited creatives will develop and deliver their proposal through a co-creation process with the local community and a local creative or cultural company, that will participate in the development of the project.


DEADLINE
September 2nd, 2022
WHAT YOU WILL FIND IN THE OPEN CALL

Concept, Inspirations, Keywords and Values, Disciplines /Artform included, Deadline, Duration, Fee, Application information and Requirements, Selection procedure, Contact
HOW TO APPLY

Download and read the call, download the application form and send it via email to: This email address is being protected from spambots. You need JavaScript enabled to view it. by September 02nd 2022. Subject: Creative Communities



Open Call "Euro-Mediterranean co-creation residency programme (in memory of David Sassoli)" (EN)


Application form (EN)