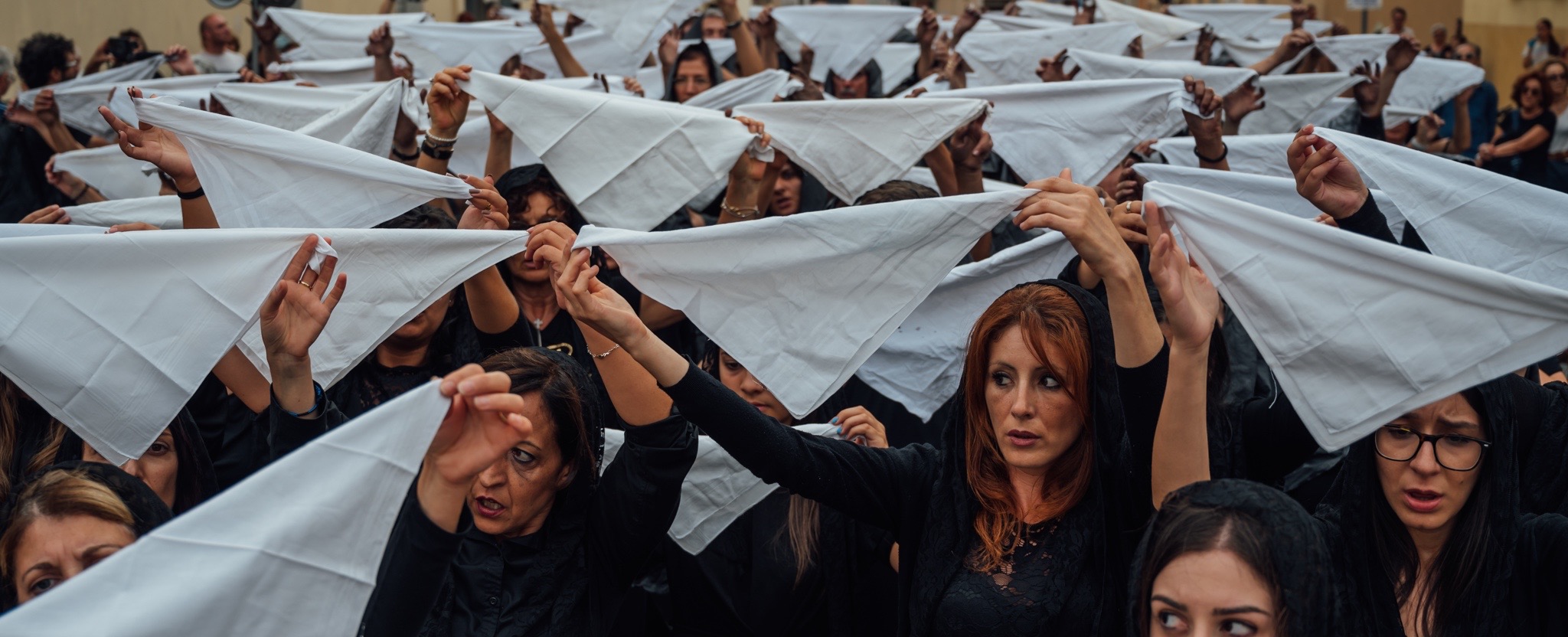 Trenodia, a procession as a form of art in the heart of the South
A great procession as a form of art has united the inland areas of the South of Italy in an embrace. Over the course of ten days, Trenodia, the public art project created by Mariangela and Vinicio Capossela, crossed the inland areas of Calabria, Campania and Basilicata between 20 and 30 August, involving citizens and artists in a procession of tears towards what is at mortal risk in our world. The "first fire", which left from Isola Capo Rizzuto in Calabria, was the "Factory of the Black", a performance of fabric dyeing, musical laments and civil orations preceded by the proclamation of the Calabrian municipality as a European Capital of Culture for One Day. The experiment was inspired by the Ministry of Cultural Assets, in order to take the original experience carried out by Lucanian municipalities in Basilicata outside the borders of Lucania.
Trenodia's next stage was in Alta Irpinia, on the occasion of the Sponz Fest in Calitri, an annual event that was held there for the seventh consecutive year under the artistic direction of Vinicio Capossela. Here, too, the municipality was awarded the title of European Capital of Culture for One Day. Still in Irpinia, the event moved on from Calitri to Cairano and Lacedonia. The dates in Basilicata were the 27th in Tricarico, the home town of Rocco Scotellaro and Antonio Infantino, with civil orations by Pietro Laureano and Vinicio Capossela, and Thursday 29th in Matera, where the afternoon funeral procession left from Rione Piccianello for Cava del Sole, where Vinicio Capossela's final concert brought this extraordinary journey to a conclusion. A special concert, an unprecedented hymn to black, the colour of fertility and shadows, as well as the South, mourning and shelter. With Trenodia we rediscovered a dreamlike world which has its roots deep in the popular tradition of the entire South.
Trenodia was conceived and directed by Mariangela and Vinicio Capossela and produced by Matera 2019 with Sponzfest Sottaterra 2019, the annual festival directed by Capossela in Alta Irpinia.
photo credits: Giuseppe Di Maio