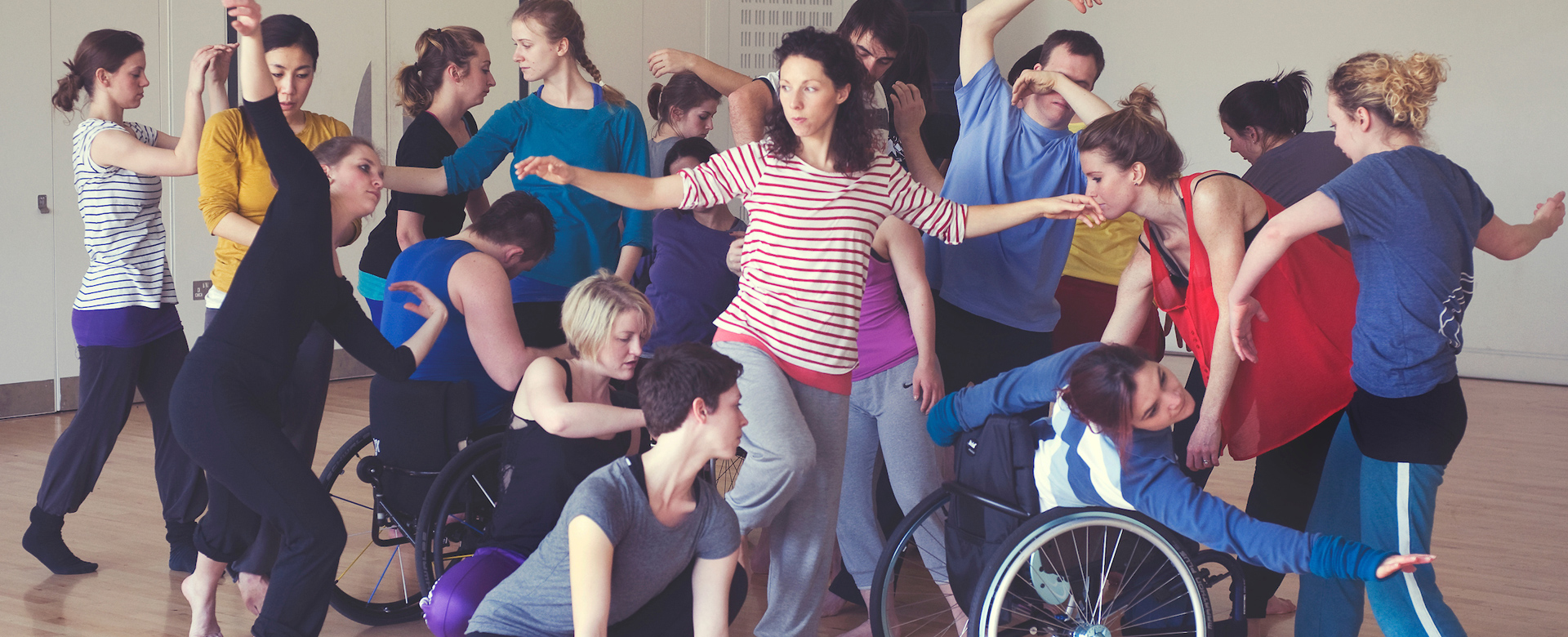 Public Call - Inclusive Dance Workshop for the project Movimento Libero
Update 20 June 2019
The deadline for the call has been extended. Applications can be sent up to and including June 27th. Consequently, the outcome of the selection is also postponed to the 4th July.
---
This inclusive dance workshop is the second phase of the project MOVIMENTO LIBERO that explores the relationship between art and disability. This 'Dance Workshop' is a chance for disabled and non-disabled participants to explore the exciting contribution to dance made by disabled dancers.
Stopgap - Community Dance:
The workshop will be led by the world-renowned Stopgap Dance Company (U.K) who create contemporary dance productions with a cast of disabled and non-disabled dancers. It values ​​a pioneering spirit and is committed to making discoveries about integrating disabled and non-disabled people through dance.
Stopgap conducts creative learning projects and workshops for schools and local communities, to demonstrate how dance is accessible to all and to observe how integrating disabled and non-disabled people through such projects promotes active citizenship and social cohesion.
By filling in this form, you can apply for the Public Call to participate in the MOVIMENTO LIBERO inclusive dance workshop, led by Nadenh Poan and Siobhan Hayes, members of StopGap Dance Company, within the framework of Nessuno Resti Fuori - a theatrical, city and citizens festival. The Workshop is scheduled from 23 to 27 July 2019, it will be a 5-day course animated by English artists and open to disabled and non -disabled people: it will represent a new vision of performative art, enhancing skills through artistic expression . The workshop concludes with a performative outcome, seen as a restitution to the community, scheduled for 27 July and which will be repeated on 19 October at the opening of Stopgap's 'Artificial Things' dance production.
This public call is launched by the Matera-Basilicata 2019 Foundation, the project MOVIMENTO LIBERO is a co-production with the British Council and in collaboration with IAC - Centro Arti Integrate and Oriente Occidente Dance Festival.
Registration deadlines and conditions:
Registration will end on June 20, 2019. The outcome of the selection of participants will be published on www.matera-basilicata2019.it within 10 days from the end of the registration.
In a journey that leads citizens, both temporary and permanent, to become not only spectators but also active cultural builders, the selected candidates must be in possession of the Matera 2019 Passport in order to participate in the workshop. Concessions are available for disabled people.
Any travel, board and lodging expenses are at the expense of the participants.
Registration includes a commitment to participate in all the sessions of the workshop, the performance outcome of 27 July and the rehearsals and replication on 18 and 19 October.
Who is the workshop for and what is the selection criteria?
The laboratory is open to everyone, disabled and non-disabled people who are interested in exploring new forms of movement and relationship with their own body and with others.
Minimum age: 18 years
Maximum number: 20 people
Disability must not be an obstacle to participation, we guarantee full accessibility of the location in which the laboratory will take place. The workshop will be conducted in English with Italian translation. If necessary, additional communication assistance will be made available including Italian sign language.
The selection process will be carried out by the project partners and the laboratory conductors. We will use the registration form to evaluate:
Your experience in the dance world: as a professional dancer, dance student, amateur dancer, spectator; (We know that disabled dancers have fewer opportunities, so we will consider "experience" in a very broad sense of the term)
Your motivation to take part in this workshop;
Your opportunities to apply the knowledge acquired in the laboratory in Basilicata and to share it within the local artistic sector and Italy;
The general artistic context of the laboratory and public performance.
Laboratory
23 July - 27 July 2019 - from 9:30 to 13:00
Gym of the Istituto Comprensivo Pascoli - Primary School, via Lazazzera, Matera
Performative outcome July
27 July - afternoon/evening
Piazza Giovanni XXIII (in front of the church of San Pio X)
Performative outcome July
18 October - general rehearsals, time to be defined
19 October - show, time to be defined
Sala Pasolini, il Circo, Matera
Fill in this form to participate!