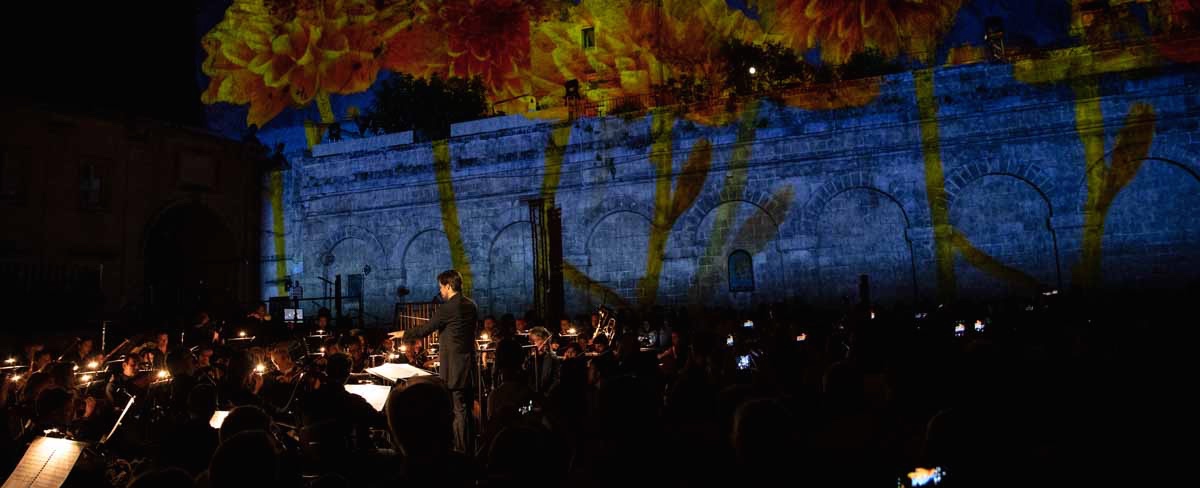 Inhabiting the Opera, an opera among the Sassi stone districts
One of the most intense moments of the Matera 2019 cultural programme was performed between 31 July and 3 August: Abitare l'Opera (Inhabiting the Opera), a major cultural production produced with one of the oldest theatres in the world, the San Carlo Theatre of Naples. Bringing opera to the great natural stage of the Sassi on a walkway in the middle of the audience, which brought it into direct contact with the action on stage, proved to be a great success with the public, and a winning gamble.
Over a thousand spectators applauded "Cavalleria Rusticana" in a Piazza San Pietro Caveoso that had been transformed into a stage, using the façade of the Church of Santa Maria di Idris for the spectacular video projections. The event was broadcast live on Rai5 on Saturday 3 August, directed by Giorgio Barberio Corsetti, with orchestra and choir conducted by Juraj Valcuha and a cast including Veronica Simeoni, Roberto Aronica and George Gagnidze.
The prologue to "The Seven Capital(ist) Sins", which denounces excesses in liberalism, involved dividing citizens into stations. At each station, a choir of citizens sang popular songs associated with the various sins – pride, sloth, lust, wrath, gluttony, envy and greed – with the extraordinary scenery of the Sassi at sunset creating a theatrical setting.
The long, evocative pathways were characterised by modernity and tradition, recounting the weaknesses of humanity in performances, followed by two large masks set opposite each other – good and evil, which often represent both sides of the same coin in our everyday lives.
Greeted with applause and standing ovations, the performances of Abitare (Inhabiting) offered its audiences an extraordinary immersive experience. "Cavalleria Rusticana" was broadcast on television throughout Switzerland, and Arte also broadcast the event in Switzerland, France, Germany, Belgium, Austria, Lichtenstein, Luxembourg, the Principality of Monaco and French-speaking countries across the ocean. From the middle of August, the opera will be presented in Japan, Hungary, Slovenia and Greece. Between 2019 and 2020, "Cavalleria Rusticana" will be distributed to cinemas in Europe, Korea, the United States and Latin America. It will be available on DVD from Spring 2020.