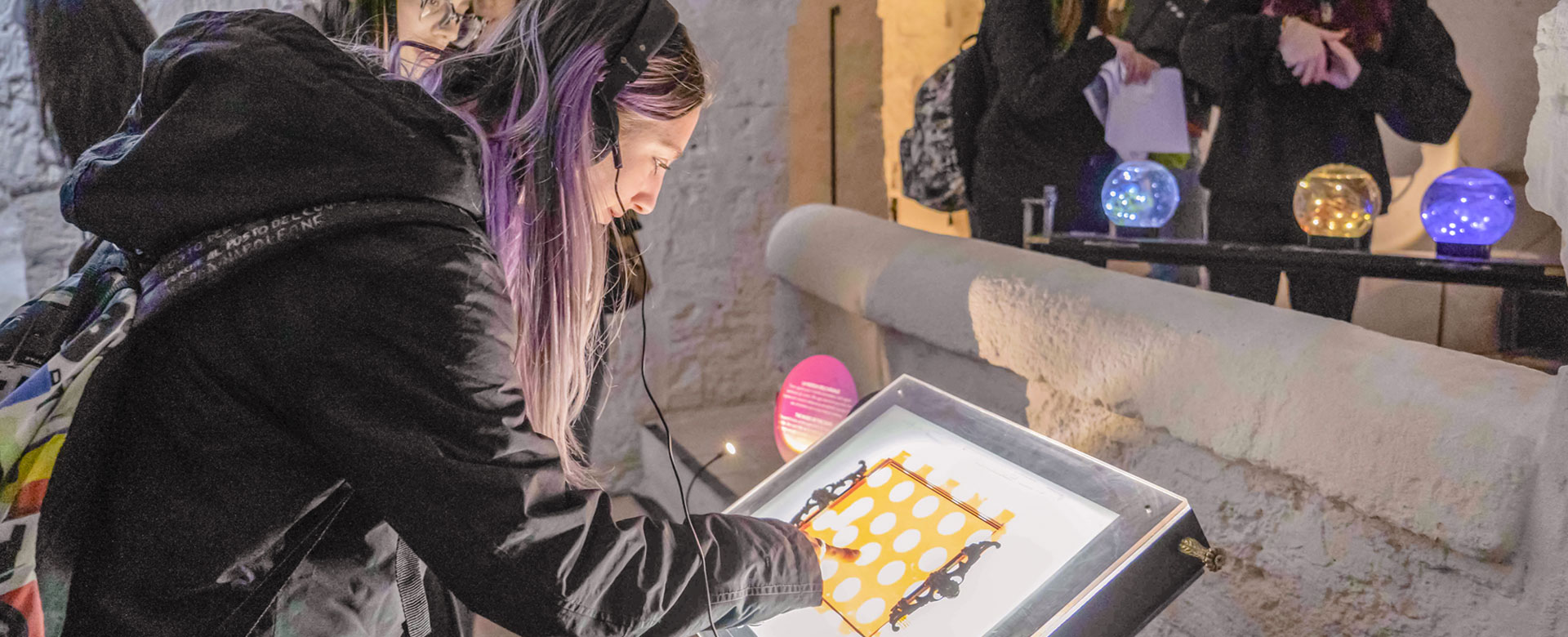 The pop museum of small re(f)used objects
After two months, the travelling museum of fragments, traces and small re(f)used objects collected for the M.E.M.O.RI. project, and co-produced by La Luna al Guinzaglio, has closed its doors.
The museum developed out of a journey through Europe and the Mediterranean in search of souvenirs and handmade objects, stopping off in the five port cities of Genoa, Malaga, Marseille, Tetouan and Tunis and within the borders of Lucania in Bernalda, Matera, Muro Lucano, Potenza and Venosa. As the various places were visited, the purpose of the study changed, as did the very sense of souvenirs, leading to a transformation from typical to topical objects.
What are re-fused objects? They may be bottle caps, plane tickets, packaging, pieces of paper or objects found by chance in a pocket or in the street. The Museo Euro-Mediterraneo dell'Oggetto RI-fiutato's collection exhibits object that have not been rejected because of what they are but because they are "sensed again". They are objects we dispose of automatically, and often unreasonably: they are objects that can have a new life.
M.E.M.O.RI. is a pop museum, a popular museum that might be put together by anybody, because it is made up of small things, trivial objects that are a result of chance encounters: fragments of stone, thread and fabric reinterpreted through kaleidoscopes, handles and magnifying glasses.
From 3 May to 7 July, in the setting of the Chiesa Rupestre Santa Maria de Armenis, which reopened its doors after years of being closed so that it could host elements of the Matera 2019 cultural programme, all these objects, reworked as a sign of respect for the memories they carry with them and as a gesture towards saving the planet and ourselves, were on show. The magic of M.E.M.O.RI. lies in telling the story of these discarded objects and encountering them interactively. Visitors are invited to undertake a "manu-mission", using their hands as a way of establishing a direct contact with the found objects and accessing their internal memories.
In the 30 days it was open, M.E.M.O.RI. was visited by some 1,300 temporary citizens from Italy and abroad, above all from schools, universities, associations, foundations and summer camps, involving adults and children, educators, teachers, members of associations and disabled persons.
The collection is divided into an "Anarchivio" and five sections called Stanze, spaces where people are invited to stay, give themselves time, slow down and explore. The Anarchivio is an unusual kind of archive that conserves the memory of the objects on display and the research methods used in the investigation process through a collection of documents and testimonies. The Stanza dei Segni is a room for hands that touch lightly, squeeze and immerse themselves as ambassadors for our bodies, which as they touch, leave a sign or a feeling, and enshrine their movement. The Stanza dei Frammenti is a space of fragility and small things, in which things speak as remnants and details rather than as complete objects. The Stanza delle Cadute is where the humblest of remnants collected from floors while passing through artisans' workshops can be found; it is where things that fall and are lost can talk: shavings, threads, leftovers from a manufacturing process or buttons. In the Stanza delle Ripetizioni, the collection of remnants celebrates cycles, returning, circularity and the forms of materials. The final room, the Stanza delle Chimere, which opened on 27 May, was inspired by artistic elements on the universe of myths suggested by the Japanese artist Kaori Kato. It is a space in which we move towards the future, riding ideas that have their roots in the past – objects, artefacts and tools – where visitors become a part of the same creature, and components of the same structure.
Each room presents a loaned work that is tied to a Spontaneous Museum, a wide-ranging online network of museums opened in various places by citizens, individuals and associations. They are M.E.M.O.RI.'s external sections. Using a real museum protocol as regards their preparation and inauguration, they are opened in other locations by anyone who wants to turn their own private collection into an exhibition, a narration or a place of hospitality: there is one in Potenza in the home of an artist, one in Genoa in a tai chi gym and one at the Liceo Artistico in Matera, and there are others elsewhere in Europe. By using the MemorAbilia app, which was designed especially for the project, more can be discovered about the loaned work, what it was, who has it and its dimension in the Mediterranean area. The app, which can be downloaded on to both Android and iOS smartphones, enriches the use of M.E.M.O.RI. with an audio guide in English and Italian, scientific information, 3D animations and stories in rhyme.
A long series of events and appointments preceded, supplemented and enriched the exhibition dimension of the M.E.M.O.RI. museum, to encourage new reflections on the Mediterranean, relations, languages and art. Guests of the workshops include the founder of the Museo Tolomeo, Fabio Fornasari, the anthropologist and journalist Duccio Canestrini, the fantasiologist Massimo Gerardo Carrese, the photo journalist Antonio Politano, the artists Kaori Kato, Hassan Echair and Farah Khelil, the curator Maria Rosa Sossai, Fabio Bonelli and the author Gianluca Caporaso.
Now that the exhibition in Matera has closed, the M.E.M.O.RI. collection will be on the move again, first to Potenza, then to the Genoa Science Festival, and then on to Bologna, Antwerp and Malaga. Who can tell? I may be enhanced by more objects to re-sense, rework and protect.