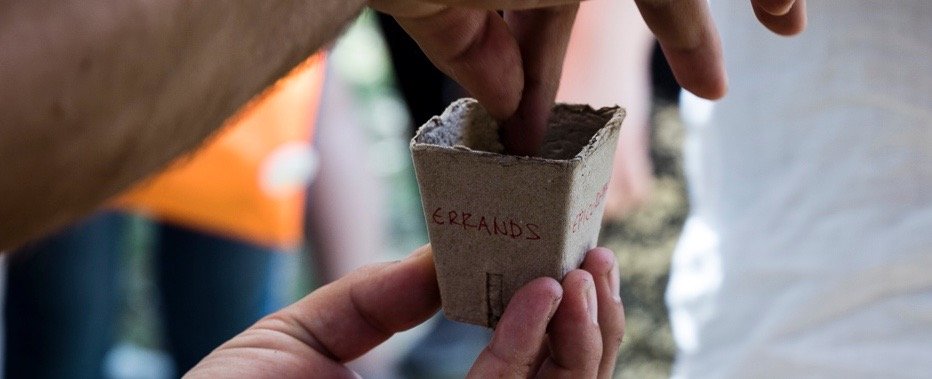 Gardentopia Day 2, exploring the heart of Basilicata amongst community gardens
Contemporary art enters the heart of Basilicata with the Gardentopia Day #2 community gardens tour, a large-scale project that promotes green culture and active citizenship thanks to new synergies between citizens and artists.
An opportunity to bring together the citizens who work to manage these urban green spaces and for them to participate in the artistic and social interventions that are created here by artists from all over the world, selected by the curator of the Gardentopia project, Pelin Tan.
Between food, cultivation and philosophy, the day's programme started in Matera, where at 9.00 two buses departed with more than 100 citizens, to start a Gardentopia tour between the municipalities of Basilicata, covering two different routes.The first section included a first morning stop at the Irsina community garden where the public participated in the 'Community Radio' artistic intervention with the Radio Instabile performance from the artists Futurefarmers and Maria Pecchioli who worked with the local inhabitants, plants and one another to collectively imagine a new 'tale of wonder'. The story was transmitted locally via radio and through a series of seed-shaped speakers, migrating from hand to hand throughout the area. The second stage went through the community garden of Campomaggiore where at noon there was a community picnic with music from Pu.Ba.La selectors and made even more tasty by the infusions of the mobile tea house. In parallel, the second section included a first stop at the Metaponto community garden with the Epicurean garden performance from the Greek collective Errands, composed of architects, visual artists and sociologists. The group has created an epicurean garden according to the life models of the Greek philosopher Epicurus. The second stop at the community garden of Stigliano was the site for the community picnic with entertainment from Euroband, La Murgia's street band. At 19.00, all the buses then found themselves in the community garden of Castelsaraceno for the 'Community Dinner', accompanied by two different activities: the performance by the Thai artist Rirkrit Tiravanija, known for creating social relations in the artistic spaces and widely recognised as one of the most influential artists in socially engaged art; and a talk by the philosopher Nicola Perullo.
The Thai artist Rirkrit Tiravanija ended Gardentopia Day #2 with a lively cooking performance and installation in the garden, cooking with local and Thai ingredients at the NaturalMensa of Castelsaraceno, an eco-sustainable canteen with an experimental lunch service based on organic products.